Eye Disease Management with Optomap Monaco Technology
Central New York Optometrist P.L.L.C. provides the state of the art technology and resources to help improve and strengthen your eye health and vision. One of the eye disease management tools we offer is optomap® Monaco. This is an important component of every eye exam we do because it creates an image of your eye that's detailed. With it, Dr. Ralph Lamberto gains access to a high-resolution, 200-degree image of your eye. This allows for proper understanding of your eye health.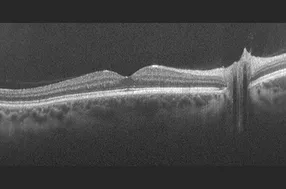 Why Imaging Is Important
Traditionally, only a 45-degree image is available to your optometrist. This limits just how much information your optometrist has to understand your eye health. With optomap, that's changed. This provides a much more thorough view. Often, eye problems develop so slowly or in a discrete manner that even you do not notice. Conditions such as macular degeneration, glaucoma, retinal tears or detachment, and other health problems can lead to long-lasting damage to your eyes. If you have high blood pressure or diabetes, you are at a higher risk of developing these complications. You need more thorough eye exams as a result.
Preventing Diseases with Imaging
When we conduct an eye exam for you, our goal is to look at the structure and function of your eyes. The goal is to pinpoint the very earliest signs of problems or potential complications so that we can effectively prevent, diagnose, and/or treat conditions such as:
Macular degeneration
Glaucoma
Diabetic retinopathy
Retinal tears
Retinal detachment
We can do this with optomap because it provides more information for your eye doctor to use.
How Does Optomap Work?
Optomap Ultra-widefield Photography
Regular detailed examination of the inside of the eye – the retina, is critical to eye health. Doctors use a number of techniques to examine the retina including looking into the eye, usually after dilating and the use of special cameras for imaging inside the eye. Until recently, most ophthalmic cameras could only photograph about 20% of the retina at a time. We now know that many eye diseases occur or begin at the outer edges of the retina, ("the periphery"), so examining this area is extremely important.
Because seeing the entire retina is so important at Central New York Optometry PLLC we have invested in the most advanced camera for ultra-widefield photography and angiography. In a single, quick shot, this camera produces "optomap" photos or angiograms of about 82% of the retina. These optomap images provide superior visibility of the retinal periphery allowing us to see, document, show you, and follow pathology that could not be seen with traditional eye cameras.
The optomap exam is quick and painless and combined with the thorough eye exams our doctors are trained to provide this advanced technology offers a new level of diagnostic confidence. We are proud and happy to offer this service to our patients.
What Can You Expect When You See Your Optometrist
When you visit your optometrist, this scan will likely be a component of the process. Remember, our goal is to monitor your eye health now, while it is good so that we can prevent the onset of disease. Not doing so could mean a higher risk of vision limitations later. This is a fast, easy, and comfortable process. All you have to do is to look into the device one eye at a time.
To learn more, schedule an appointment with your eye doctor in New Hartford. We're here to answer your questions. Call: (315) 735-7590.